Our planet transcends all life form hence to witness the marvelous creation one can travel from one corner to another corner of an earth. Along with all the natural beauty, abundant waters is also the mainstay of its beauty. The crashing of waves can give one goosebump or the serene water gives a soothing experience. There are varied waterfronts across the world and we often place ourselves in front of them on the beaches and immerse ourselves in its ravishing scenery.
Beaches beauty is enhanced when its sand shows varied hues and various marine life nestled themselves along the shore. We have listed top 15 unique and fascinating beaches around the world which may transcend you to an altogether different world.
Fascinating Beaches Around The World
1. Giants Causeway Beach, Northern Ireland
Every beach mentioned here has its own uniqueness to mystify the world and make the visit worth for the tourist. Here's the first one where the land meets the water.  With sun-dappled interlocked basalt rock towering on the beach makes it an exquisite beach. The beach is declared as World's best heritage site by UNESCO.
2. Pfeiffer Purple Sand Beach, California, USA
California is famous for two things silicon valley and beautiful beaches. Amidst all the most awestruck beach is Pfeiffer beach in Big Sur. The choppy sea has its waves getting chopped off with jagged rock forming all over the sea. The uniqueness of this beach is the sand color which is purple. The reason being those are manganese garnet particle washed down from hillsides.
3. Bioluminescent Beach, Vadhoo, Maldives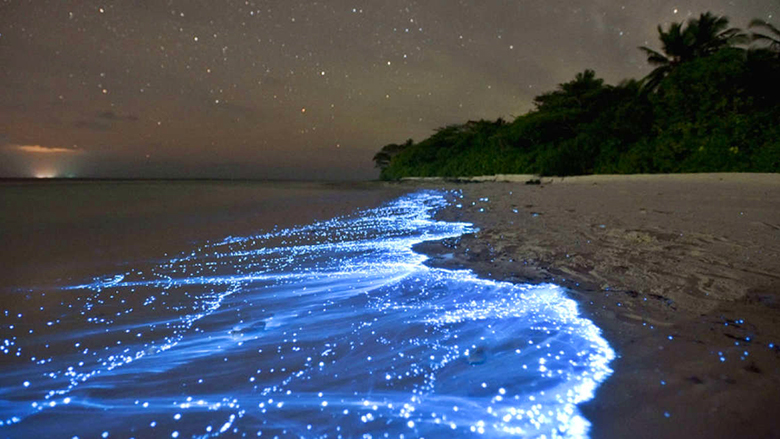 While enjoying the ethereal beauty of the beach in daylight we often forget the marine coast look beautiful in the moonlit sky. However, to enhance the beauty of nature, this beach situated in Vadhoo, Maldives has its water turn bright blue at night due to phytoplankton in water which has the ability to produce light. To experience the bioluminescence on beach plan your visit from July to February.
4. Anse Source d'Argent, La Digue, Seychelles
Situated on Indian ocean with pristine waters, brine granite boulders, white sand (sometimes pink) surrounded by palm trees makes Anse Source a secluded beach in Seychelles among 115 islands.
5. Maya Bay, Thailand
Maya Bay is undoubtedly one of the most awestruck beaches in the world. It's immensely close to the jaw-dropping natural beauty as it is surrounded by 100-meter high cliffs from three sides. In the year 1999, a movie titled "The Beach" was shot here, and since then it has become a major tourist attraction. November to April is the best time to visit this beautiful heaven on earth.
6. Cayo Coco, Cuba
Cayo Coco Island is full of Fine White Sand beaches, where you can witness the crystal clear turquoise water. The beaches here are well suitable for fishing and scuba diving lovers who wish to explore eye-catching natural coral reefs. And if you want to play with dolphins, and also have a fascination to see pink flamingos, then you should definitely go and explore Cayo Coco.
7. Shell Beach, Shark Bay, Western Australia
The beach is located at the brim of the continent and it is a part of Shark bay UNESCO world heritage site. The beach specialty is it is filled with shells all around you turn your head. Something rare and different to enter in your bucket list. You can halt at Pearler restaurant built of shells from this beach.
8. Papakolea Beach, Ka-u' Hawaii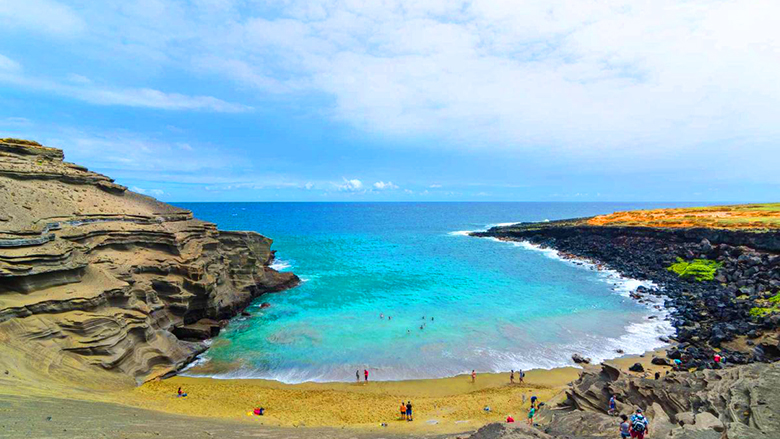 This beach is located on the island of Hawaii. It is surrounded by cinder cones and rugged paths. Hence in order to pave your way to this beach, you got to hike for 3 long hours. Who would wish to travel for such long hours just to see where land meets water. No, it is not an ordinary beach but verdant green sand beach. The enigmatic color of the beach is because of the olivine- a silica mineral. This mineral is also present in Hawaii lava and is composed of iron and magnesium.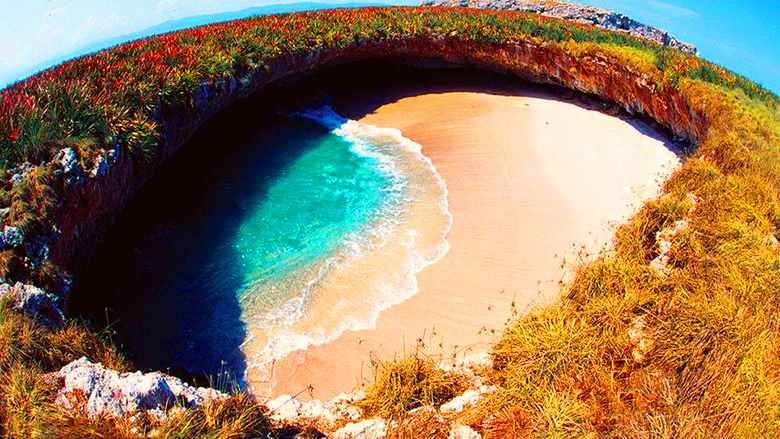 Playa del Amor is also known as hidden beach encircled by a massive rock ring forming a natural orifice for sunlight and sky. Such a secluded beach is also difficult to traverse it. It can only be traveled by helicopter or through swimming and scuba diving. A horde of people cannot travel on this beach, at a time only 6 people can visit. Isn't it a worth to leave your footprints on the hidden beach and imprint the memory forever on your soul.
10. Navagio Beach, Greece
Navagio Beach is surely the most beguiling beach you'll ever come across in Greece. It is also known as the Shipwreck Beach. There's a story around it which you can read on Google to know why it is called as the Shipwreck Beach. Initially, you may not find it to be a mesmerizing beauty, but when you'll reach to the top of the cliffs it is surrounded with, you'll find that there's no other piece available that can match this dazzling beauty on earth.
11. Seven Mile Beach, Grand Cayman Island, Caribbean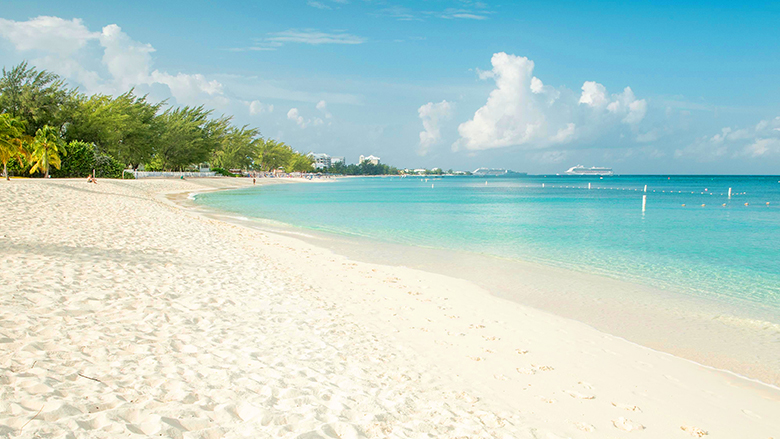 The Seven Mile Beach located at Grand Cayman Island is an ultimate award-winning beach in the entire Caribbean. It attracts thousands of tourists from all across the globe every year. The elegant beauty of this beach will never let you down. At this captivating golden sand beach along with working on your tan in sunbath and watching the waves roll in, you can go for a beach walk all across the 7 miles long stretch.
12. Santa Monica, California, USA
If you are a party lover and you are bored visiting secluded, silent beach. Santa Monica is a perfect beach for you. From loud crashing waves, night fun, spreader over 3 miles on the shore and oceanic views is one of the most popular beaches in the USA. No wonder you will find all the Hollywood celebrities and glamour on the beach.
13. Barceloneta, Barcelona
Barceloneta is unique in its appearance as it consists of eight different waterfronts. with white sand located off the coast of the Mediterranean coastline. The beach is popular for Italian cuisine and nightlife party.
14. Harbor Beach, Bahamas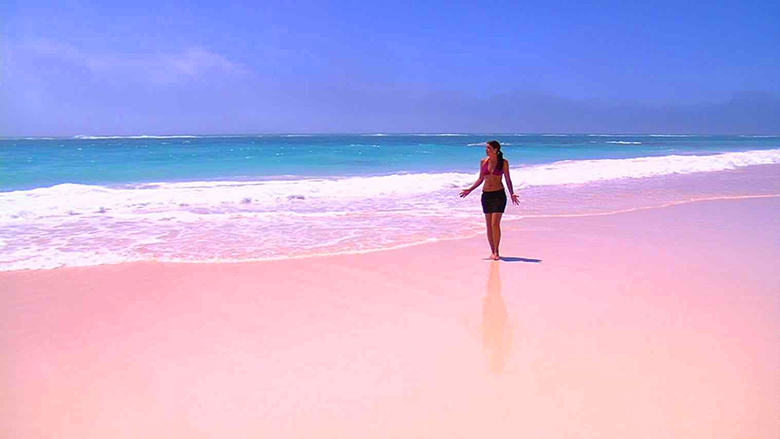 Harbour beach in the Bahamas is not only a beach with blue aqua and fine sand but it is the insanely beautiful beach. It is filled with pink sand and heavy waves. Harbour beach is located on the Atlantic ocean. The mainstay of the beach is flower-filled streets and aquatic life. You can only go to this beach by plane or water taxi.
15. Miami, Florida, USA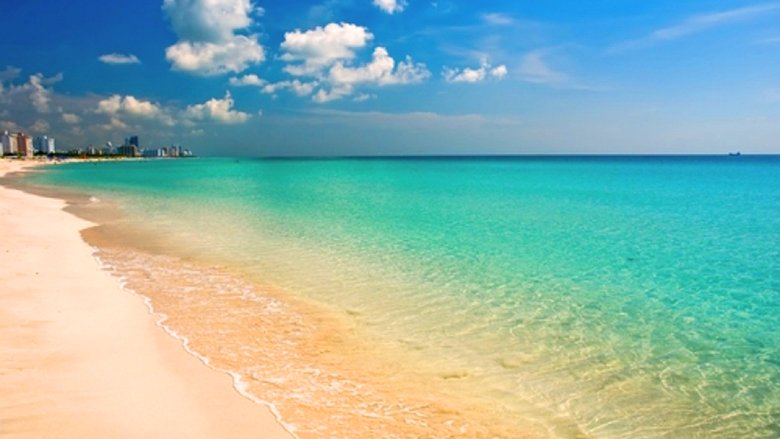 Miami is a beautiful beach in the USA. It has sprawling 9 miles of space to explore. Surrounded by Atlantic ocean and Biscayne Bay it has a great oceanic view, heavy waves, and various water sports like snorkeling, swimming going on the water. This beach is also famous for Hollywood celebrities who are often spotted in swimsuits and bikinis to have a sunbath.
With a surging popularity of having a respite vacation, a number of secluded beaches are becoming quite extinct. Hence to experience the tranquility and to spend your relaxed time in the laps of untouched sand and gushing waves do visit the above-mentioned beaches.