India is a land of rich culture and heritage, diversified in religion and provinces each state has something unique to offer. Indians specialized in handicrafts, intense labor, fine craftsmanship, freshly grown foodstuffs are unraveled to find elsewhere in the world. With all the local resources Indian tend to create a blend of artistic souvenirs which has an essence of India in its every form. Let's have a look at 15 unique gift items to present your friends and relatives abroad.
15 Unique Gift Items From India
1. Spices
Spices have led to globalization. It was the main reason for Indians getting colonized by the British. Hence the whole world is enamored by spices of India. It adds flavor to the bland food. Spices with its aroma add life to the dishes giving a satiated feeling. A unique gift of spice is more in demand from Indian land.
2. Sari
A sari is an epitome of women beauty. The artwork and fine design on saris give a ravishing look to a woman. A sari is an essential clothing an Indian women wardrobe possess. Hence you can find different types of saris in every state ranging from Mysore silk to Maharashtrian Paithani or Tamil Nadu Kanchipuram Silk Sari to Madhya Pradesh Chanderi Sari & Banarasi Sari from Benaras. You can drape them in unique jaw-dropping style on any occasion. Therefore a sari gifting will be not only different but also extension of Indian culture in the foreign land.
3. Indian Gold Jewelry
Indian jewelry is present since Indian civilization. The art of adornment was quite popular with flower motif and beads in primitive stages, however, with different invaders and globalization, the jewelry has been an asset to every Indian woman. Ornaments accentuate the beauty of a person and complement their clothes. You can gift a traditional jewelry like jhumkas, kadas, payal, or a set of extravagant silver jewelry or aesthetically designed pearl jewelry to your firangi friends or relatives.
4. Perfumes
Scented perfume or attar holds the special place in the heart of Indians. Attars are basically obtained from its own source with no alcohol, chemical or gases mixed. They are not only used for aroma but also as the flavor of food like rose or kewada attar. Your foreigner friend/relative will be enticed by the fragrance of attar & unique carvings and shape of attar bottle also give it aesthetically gift appeal.
5. Ayurvedic Products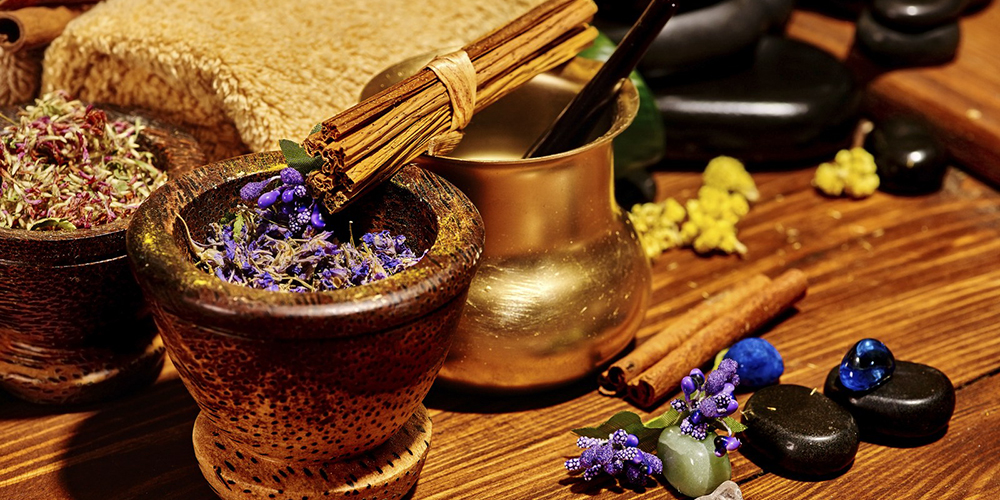 Ayurveda has been indigenous to our country since 5000 years. It is a gift to Indians for a holistic medicinal service. Over the years Ayurveda has grown manifolds in India with various rejuvenation centers for curing chronic illness. You can gift ayurvedic products for the wellness of your friends and relatives like aloe vera products, sandalwood paste, or aromatic oils.
6. Indian Tea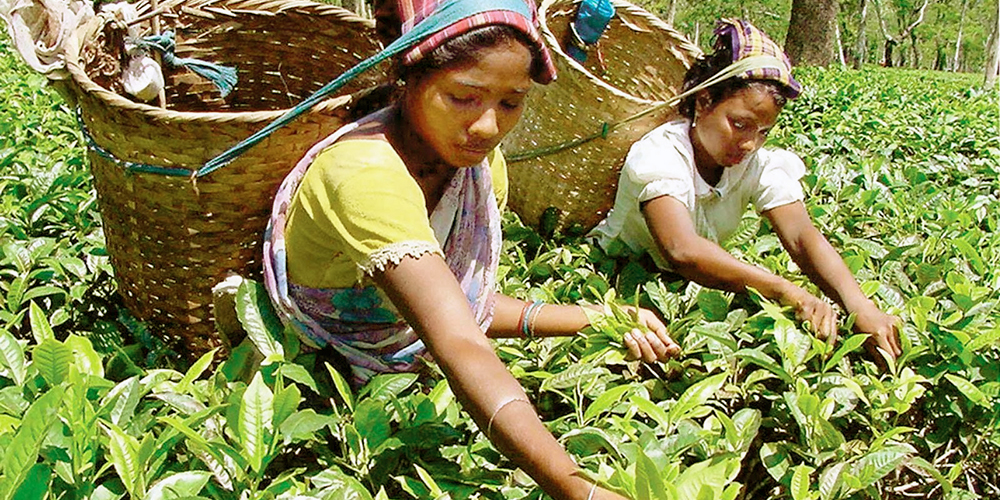 "A lot can happen over tea in India" is an old adage for people who loves chai. A hot steam accompanying strong aroma emerging from a cup of freshly brewed tea refreshes a person mood. Therefore take pride in gifting tea packets available in varied flavors; It is hard for your foreigner relative/friend to say it's not my cup of tea.
7. Indian Traditional Footwear
India is the second largest manufacturer of footwear. The different footwear like Juttis, Nagara, Kolhapuri Chappals, Mojari is also available in modern contemporary look. Juttis, ethnic alternative for long-established ballerinas are in great demand in various countries. It's like a perfect and unique gift for people living abroad.
8. Terracotta
A priceless possession abided by tribes in India. It includes terracotta pottery, pans, wind chimes, decorative items etc. Their craftsmanship deserves a global promotion. With your gifting, you can put these tribals on the map, for the world to know the great artisans are born and made in India.
9. Khadi Clothes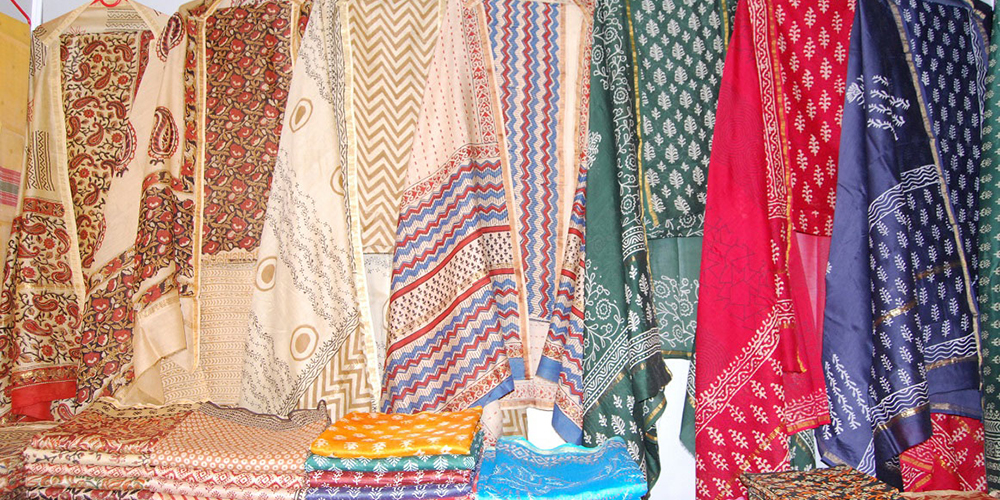 Khadi cloth is spun with lots of emotions our country holds. Gone are the days when Khadi was used by only politicians and Azad hind fauj. Khadi is resurging popularity amongst youth. Let us revive our swadeshi goods and reverberate our self-sufficiency motives by presenting khadi cloth in form of clothes or shawl.
10. Homemade Pickles & Ladoos
We often get emotional when we see in a movie that a hero in some different land opens up the jar filled with a mothers love. Pickles of different varieties gives an essence of indigenous fruits and veggies it is made from. Ladoos are perfect healthy snacks to binge on savoring the taste of desi ghee melting in the mouth and absorbing themselves in the memories of their loved ones. A perfect gift for our foreign relatives and friends with a tangy and sweet tinge of nostalgia.
11. Coiled Cane and Bamboo Craft
Indians boast of its skilled artisans. The work reflects the creativity and wisdom of the products made by them. The reeds or cane obtained naturally is utilized by the locale to make creative and decorative products. Baskets, mats, chairs, decorative lamp, cushions etc. are indeed eco-friendly souvenir for your long distant friends and relatives.
12. Paintings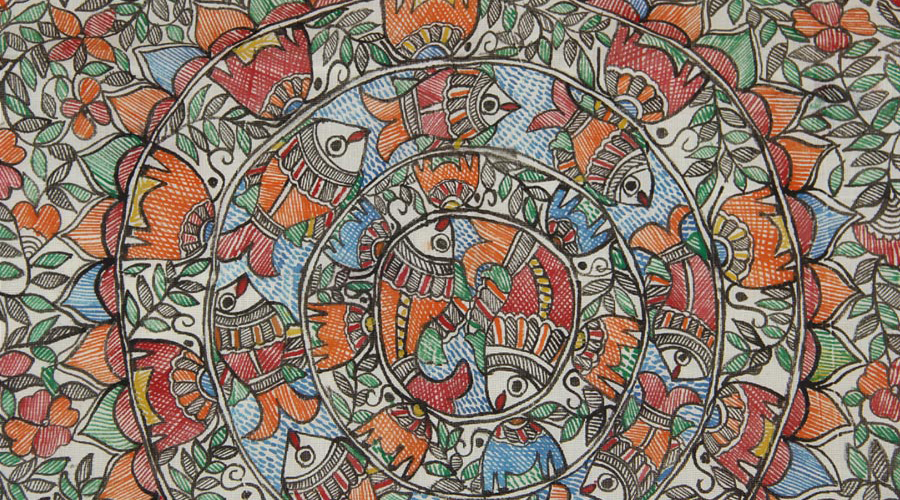 The artwork patronizes our rich cultural heritage. It ensembles the reigns of famous rulers. The Madhubani paintings are flourished in Mithila region of Bihar. The paintings are spread across the surface with bold colors and no gaps left. Tanjore paintings are born during Maratha and Vijayanagar dynasty. The artwork consists of god and goddess figures, or celestial bodies, or bride and bridegroom's faces. The Warli paintings from Maharastra are the brainchild of Warli tribe. The painting is a way of expression of their social life. It includes human, animals and their daily routine activities. Warli painting can be done on cloth and paper. Every painting with vibrant colors, dashes of gold, the semi-precious stone gives three-dimensional effects to the painting. It holds a story of rich tradition from their respective state. A perfect motivational gift for a creative artist for your foreigner friend/relative.
13. Handloom and Handcrafted works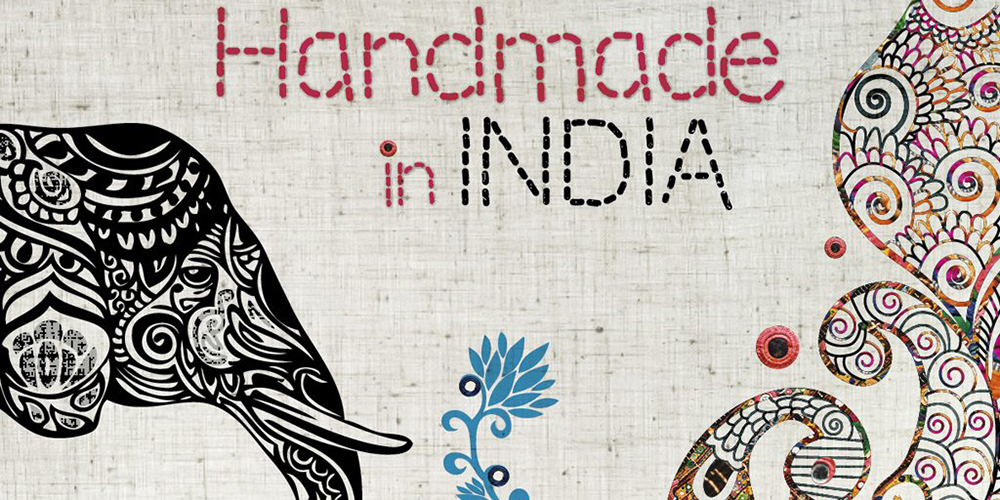 The carpets, mattresses or cushion covers from India stand out by decorating a dull monotonous surface at the background. It also enhances the beauty of walls or floors where it has been placed. The intricate designs and embroidery work on carpets or mattresses exemplifies elegance and aesthetic of our tradition and skilled artisans. The vibrant and radiant handlooms have carved a niche to beat souvenir market.
14. Pashmina Shawls
A luxurious token of love cashmere shawl is a perfect souvenir. The soft wool is obtained by Pashmina goats and is hand spun by local Kashmiris. The warmness of your love is felt by the users which will always be treasured. An addition of soft thread in the fabric of life will make your friends and relatives life more colorful. Pashmina shawl can be carried with western as well as Indian clothes.
15. Toys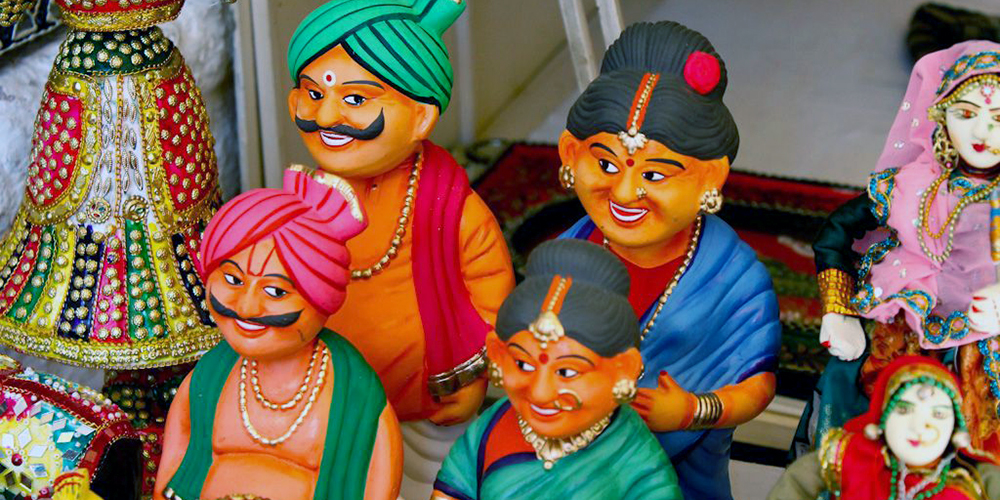 Toys such as puppet from Rajasthan or Kondapalli toys have been on the top list for gifting as souvenirs. The specialty of the toys is that they are made of wood or ceramic with detailed work and meticulous design which speaks volume about the creativity and simplicity of artisans. The bobblehead dancing women or a palanquin carrying a bride are the great souvenirs to treasure.
You can winnow any gift from a plethora of souvenirs above; however, any gift you choose it speaks about the skills of the people or eco-friendly nature of the product. Be it any gift it has its own identity and exquisite feature to charm the foreigners.